SCHOOL INFORMATION

Click the link above to find out about the local schools.

COMMUNITY LINKS

Helpful links to get you familiar with the community.

WEATHER

Click here to view current weather conditions.

GINNY'S LOCAL ARTICLES

Click above to find out local insider scoop.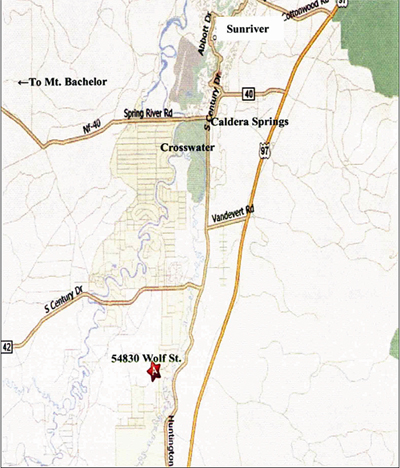 What's so special about Central Oregon?
Once people vacation in Sunriver and experience first-hand what an ideal and centralized vacation spot Sunriver is for all generations to enjoy, they repeatedly visit with their children and then --their grandchildren because of the unique, ageless and old world charm and convenience of Sunriver's inter-related villages, the glorious colors of the nearby forested skyline in autumn, the quiet beauty of snowcapped mountains and evergreens and the soothing, playful miles of the river that wind through Sunriver, Caldera Springs, Crosswater, Three Rivers South and Vandevert Ranch.
Very few destinations can rival the greater Sunriver community's amenities and close-knit proximity to recreational and resort paradise. Nestled amidst miles of river frontage and within the same pine-treed forest of Sunriver Village is the backdrop of Mt. Bachelor, the fifth largest ski resort in the United States, the breathtaking vistas and convenience of its two championship golf courses, 26 outdoor tennis courts, a park, a Nature Center, several private and community outdoor pools, its very own airport, ice skating rink, marina and stables and one of the Pacific Northwest's largest observatories. Vacationers are amazed to closely observe the deer, elk and wildlife that make the village and outlying areas their seasonal home and parents feel safe to let their children freely roam or travel together the 33 miles of paved trails to bike, walk, run , cross–country ski or snowshoe along its 33 miles of paved trails, snow-covered golf courses or Sledding Hill. Or, they can kayak or fish together along the nearby stocked lakes of Caldera Springs or golf its family-friendly course.
Literally around the corner from Sunriver, Caldera Springs, Three Rivers South and Vandevert Ranch is the world-class golf course at Crosswater. Plus, the greater Sunriver area banks up against over 1500 miles of National Forest land and is host to the High Desert Museum and home to a volcanic wonderland with over 150 lakes to boat, fish, snowmobile, hike, hunt within a 50-mile radius.
Within the region, there are over 90 golf courses to choose from and six resorts: Sunriver, Black Butte, Eaglecrest, Pronghorn, Brasada Ranch, and Caldera Springs. Sunriver is the base camp for your family to visit Bend's restaurants and Drake Park just 20 minutes away. Or take a southward jaunt to Smith Rock State Park --world renowned for its climbing routes and majestic spires along the Crooked River only 40 minutes away. Or, travel northward for 2 hours to hike around the waterfalls and mountain peaks surrounding the world's deepest lake at Crater Lake National Park. If you're feeling lazy, take a captivating drive through three of the state's and nation's scenic byways in different directions: northeast to the Cascade Lakes Highway to wind around the diversified lakes; southeast to the Outback Highway where the desert, juniper trees and canyons resemble Australia's landscape; or southwest to the MacKenzie Highway where you'll see the full spectrum of autumn colors, rivers and covered bridges along the roadway.
If you would like the community map Ginny has designed, click here – It is a great tool for planning your vacation to recreational areas from Sunriver to Bend to Redmond as well
as detailing the 4200+ lots of residential properties for sale or for rent within Sunriver. If you would like the DVD copy of the Sunriver Experience, which highlights the amenities, unique geologic features and recreational activities in and around a 50-mile radius of Sunriver – please fill out this form.If you would like a copy of the recently published Bend Bulletin article where Ginny and local experts discuss the real estate trends and opportunities Sunriver, Caldera Springs, Crosswater, Three Rivers South and Vandevert Ranch offer, click here.
For a buyer's guide of purchasing residential property and land for sale in Sunriver, Caldera Springs, Crosswater, Three Rivers South and Vandevert Ranch, click here:
To have Ginny set up a personalized hotsheet and Client Portal of properties that meet your criteria that you can save, reject or make comments for Ginny to personally follow up on for you, click here….
If you would like to receive Ginny's newsletter that features Short Sale, Foreclosure and Best Picks and the area's monthly and quarterly statistics, click here.